In this section, you will find alumni accomplishments and updates submitted February 20, 2023 through March 16, 2023. Thanks for sharing your news! Please direct any future submissions to alumni@springfieldcollege.edu.
At left, Roger Kelton '65, Bill Plunkett '65, Paul Couzelis '65, Arthur Wester '65, and John Evans '64 gather for some birthday celebration fun.
At left, Springfield College President Mary-Beth Cooper and David Cooper with alumni friends.
Members of the Springfield College classes of '71, '73, and '74 gather at an impromptu day of fun on Marco Island in Florida.
Class of '77 had some fun in the sun during their informal gathering in Florida.
Pictured above are fellow Springfield College alumni, Samantha Bastarache '19, MBA '20 (left) and Emily Doucette '12, MBA '16, who work together at F3 Technology Partners in West Hartford, CT. The two first met when Samantha was a student in Emily's MBA Human Resources class. "It's pretty neat to have a student turn into a friend/colleague, but that's one of the many special things about SC and the alumni network," says Emily. The two were recently on a company trip to Casa de Campo in the Dominican Republic.
Ludlow Public School Superintendent Frank Tiano and Ludlow High School Principal Lisa Nemeth recently presented the prestigious Pioneer Valley Excellence in Teaching 1st Year Teacher Award to LHS social studies teacher Emily Conroy '21.
The annual award honors Western Massachusetts educators for their dedication and excellence.
Colleagues nominate recipients based upon the following suggested criteria: excellence in teaching practices, subject mastery and scholarship, effectiveness and creativity, impact on students, support of and positive impact upon other teachers' practice, participation in professional development, evidence of going above and beyond the classroom and school community.
Sean "Stash" Moore '81 and Dave "Hans" Hinman '81 reunite after 39 years. The duo enjoyed a day of skiing in Telluride, Colorado.
Thank you to Christopher Quetant '11 who recently volunteered his time to talk with several students as part of our "Mentor Minute" program. Participating students Elizabeth Sobande PhD '27 (Exercise Physiology), Dante Lingley '24 (Applied Exercise Science) and Pedro Calderon '24 (Sports Management) each had 15 minutes to chat one on one with Chris about a variety of career related topics.
Christopher Quetant is the Associate Director, Anti-Doping & Sanctions for USA Track & Field. He encouraged the student participants to take advantage of all the opportunities that Springfield College has to offer both inside and outside of the classroom. During his student days, the sports management major held numerous internships (USOC, Springfield Falcons, Orange Bowl), worked several on campus jobs (Wellness Assistant, Athletics Event Staff, Alumni Relations Student Staff), served as a Head Supervisor for the Spaulding Hoophall Classic and was a member of the Track & Field team.
At left, On September 30, 2022, Chuck Bridge '05 and his wife Erica, welcomed Harrison Maxwell Bridge to the family making a family of four. (Two year old Tori Bridge also in the picture).
At right, Nick DeCelle '08 G'10, daughter Cecilia is four years old and wrote this letter. "I love the YMCA. I want to play." She attends the Saratoga Springs Pre-K YMCA. Nick shared that he currently is volunteering with the branch director, Steve Butler, for the Dake Foundation for Children. This foundation provides equipment and services that insurance does not cover for children.
Matt Brucker '07 was recently highlighted in the Salemnews.com for his more than 16 years of hard work as an athletic trainer at Essex North Shore Agricultural & Technical School.
"As the national spotlight turns to our field following major events, I've learned that we continue to show our value and importance through our preparation, actions, and educating the public.
Personally, I've learned to invest time in educating young athletes and caregivers about what an athletic trainer is and what my role is with the athletics program," added Brucker.
In 2021, Central High School, Providence, RI, head football Coach Peter Rios '77 led the Knights to an undefeated season and a Division 1 Super Bowl win in his final season. He was selected as the "Male Coach of the Year" by the Providence Journal All-State Sports Awards. He was also selected as the RI Interscholastic Athletic Administrators Association's "Male Coach of the Year" in 2021. After 28 yrs of coaching, Peter has been awarded 4 RI HS Football 'Coach of the Year' Awards and was inducted into the 'RI HS Football Coaches Association Hall of Fame in 2019. In February of 2023, Peter was inducted into the 'Providence Grid Iron Football Hall of Fame."
In this section, you will find alumni accomplishments and updates submitted January 20, 2023 through February 19, 2023.
Nancy Rocarro '80, Eileen Bow '79, Laurel Greco Vicidomino '79, and Teresa Mazik '79 gather in Pompano Beach, Florida in January of 2023.
Alumni Spotlight….Meet Matthew Tuthill '03, Vice President, Content & Communications for Robert Irvine. Matt is excited to report that he has a book coming out on February 14, "Overcoming Impossible" that he wrote for Chef Robert Irvine. Published by Harper Collins, the book is about business leadership and has been named to the list of Most Anticipated Books of 2023 by Apple Books. The audio version of "Overcoming Impossible" contains bonus content, which includes a discussion between Robert and Matt.
A communications and sports journalism major at SC, Tuthill says "I can imagine a lot, I just can't imagine getting to this stage of my career without Springfield College. The COSJ major had a huge impact on me and how I approach stories, and I've yet to write a piece without wondering what the head of the program, Marty Dobrow, would think of it. I can still hear his instruction in my head."
In his current role at Robert Irvine, Tuthill is responsible for writing all of Irvine's op-eds and speeches, and runs his digital magazine: RobertIrvineMagazine.com. Previously, Tuthill was Deputy Editor of Muscle & Fitness, where he penned over a dozen cover stories on athletes and celebrities such as Dwayne Johnson, Michael Strahan, and John Cena '99. His 2015 profile of transgender powerlifter Janae Marie Kroczaleski was named to the Notable list in the Anthology of Best American Sportswriting.
For more on Matt's book: https://www.harpercollinsleadership.com/books/overcoming-impossible/
At left, Michelle Lynn '01 and Ron Roberts '83, G'85 recently found out that they both graduated from Springfield College when he took a position this year at Patapsco High School and the Center for the Arts in Dundalk, Maryland, just outside of Baltimore, where Michelle has been teaching for the past 11 years.
Two generations of Springfield College alumni recently had the opportunity to get together. Left to right: David MacLeod '74, Adam MacLeod undergrad '10, Ben MacLeod '11.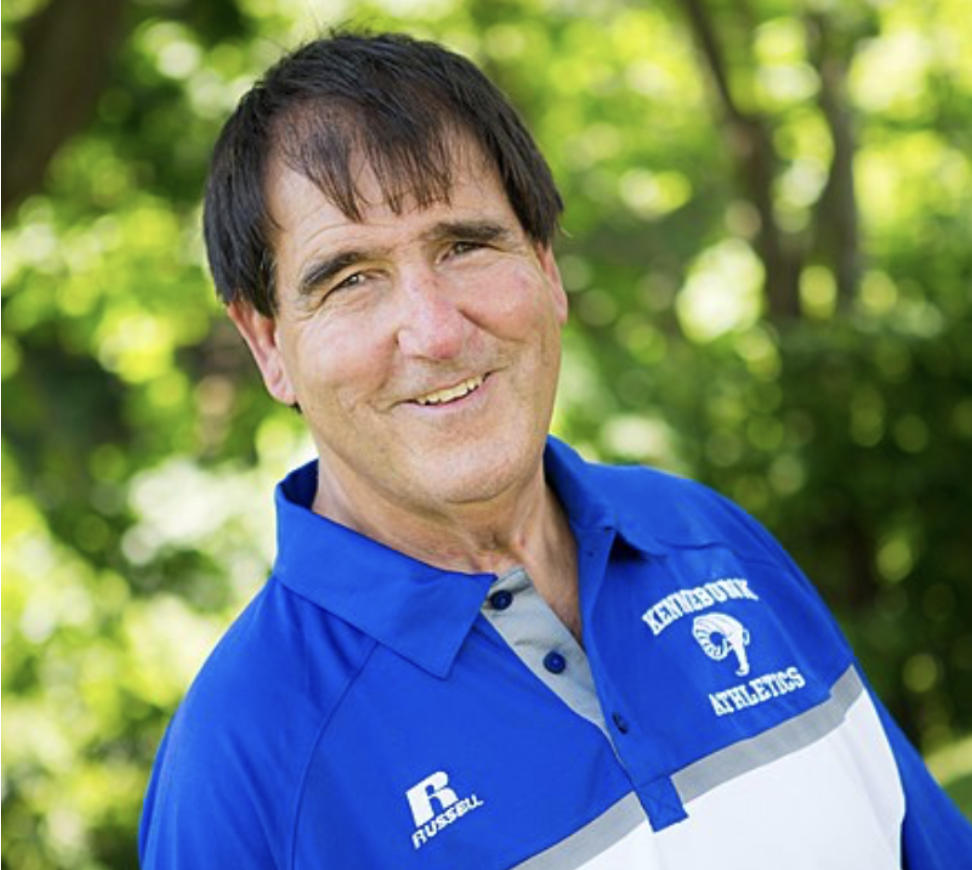 Maine State Senator Joe Rafferty '77, better known to his neighbors as "Coach Raff," recently retired after more than 40 years as head football coach of the Kennebunk Rams. He graduated from Springfield College with a degree in physical education, making him the first person in his family to graduate from college. Since 1978, Joe's goal has been to provide his students and players the support they need to become the leaders he knows they can be — no matter the path they choose in life.
Throughout his career, Joe worked diligently for fellow educators in local and state associations. From 1984 until his retirement in 2018, he was a strong advocate and voice for teachers, serving in various capacities: as President of the Teacher's Union, Building Representative on the Executive Committee, and Chief Negotiator on the contract negotiation team. He approached negotiations with an eye toward two goals many Mainers seek — to earn a living wage and have access to affordable health care.
Christopher Quetant '11, associate director, anti-doping and sanctions for USA Track & Field, after being on multiple Zoom calls, recently had an opportunity to meet fellow Springfield College alum, Stacy Michael-Miller G'98 in person at a NGB meeting in Colorado Springs, CO. Stacy is the director, national team support and services for USA Swimming. Both Stacy and Chris, along with numerous other alums, participated in a Zoom panel discussion in October of 2021 hosted by the Office of Alumni Relations titled "SC Alumni and the 2021 Tokyo Summer Olympics." https://www.youtube.com/watch?v=_tkl8wIAhV8
The latest book by presidential historian and bestselling author Craig Shirley '78 recounts the final months of World War II. The long-awaited follow up to Shirley's highly acclaimed December 1941, April 1945 tells of the final month of the Second World War. Vigorously researched and rich in details, the book explores the titanic final battles of the war and delves into events that transformed everyday lives of Americans and served as a catalyst for America's shift into its role as a superpower.
In addition to these works on the Second World War, Shirley has written Citizen Newt, a biography of former U.S. House Speaker Newt Gingrich and four best-selling biographies of President Ronald Reagan. His installment covering the 1980 presidential campaign, Rendezvous with Destiny, was named by the Wall Street Journal as one of the five best campaign books of all time. The London Times has called Shirley "the best of the Reagan biographers." He also authored the award-winning Mary Ball Washington, which features the untold story of George Washington's mother.
ISBN-13: 9781400217083
Publisher: Thomas Nelson, Inc.
Publication date: February 22, 2022
Pages: 528
Jon-Luc Lavoie '17 recently graduated from paramedic school and passed the fire academy. He is now a Firemedic with the Ludlow Fire Department.
Alumni Spotlight – Meet Kris Rhim'21….from four year member of "The Springfield Student" to now sports reporting fellow for "The New York Times," Rhim has covered everything from the Spalding Hoophall Classic to just recently, the NFL, and quite a few things in between. Prior to working at the "New York Times," Rhim was a features reporter for the Atlanta Falcons and covered the Red Sox as an intern with Boston Globe Media.
Rhim is passionate about issues involving race, culture, social justice and how they intersect with sports. This shared passion with Springfield College professor Martin Dobrow led to the creation of the podcast "Liberty, Justice and Ball," presented by the Naismith Memorial Basketball Hall of Fame.
"I was grateful to have professors that invested and believed in me at Springfield. They taught me the foundations of journalism, which I rely on daily, and exposed me to unique opportunities in professional settings that quickly improved my writing and built my network. It may be a cliche, but to me, Springfield is family. My professors often felt like uncles or aunts, and my classmates like siblings or cousins. Because of that family-like atmosphere, we stay connected, alums go out of their way to help current students, and we cheerfully root for each other," says Rhim.
Rhim received a bachelor's degree in Communications/Sports Journalism, and when he wasn't busy writing, he was a four-year member of the track and field team.
David Hoffman G'81 has a new publication in the current issue of Annals of Bioethics and Clinical Applications (Volume 6, Issue 1 2023), "Ethical Approaches to Public Policy for Health: A Focus on Principles and Working Together." Hoffman DP. Ethical Approaches to Public Policy for Health: A Focus on Principles and Working Together. Ann Bioethics Clin App 2023, 6(1): 000251. (medwinpublishers.com)
Amanda A. Alpert '05 is one of the winningest, most-decorated, and most admired players in the history of the WFA (Women's Football Alliance). As a 12-time All-American center, Alpert helped lead her Boston Renegades team to the 2022 Super Bowl title in a game that was televised nationally on ESPN2. Her teams, the Boston Renegades and the Boston Militia, have won seven Super Bowl titles. Alpert is in her seventh year at the helm of the Chelsea High School athletic program. She ran track and field at Springfield College before entering the ranks of women's professional football.
Tim Moriarty '91 recently joined Gartner as an associate partner in consulting focusing on State and Local Government based in Austin, TX.